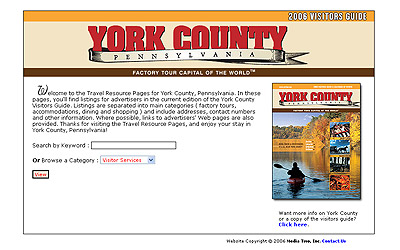 A simple online database of things to do and places to visit in York County, Pennsylvania. Listings of related businesses can be found by category or a keyword search. The site was designed under strict specification for Media Two (i.e. they wanted a very specific look and feel to the web site).
A complete list of features we built:
Professional Web Design
PHP and MySQL Database
Data Normalization
Searchable Listings
Visit the
York County Visitors Guide
.