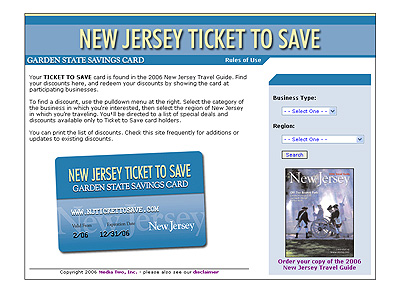 New Jersey Ticket to Save is an online collection of businesses that offer discounts to those who carry the New Jersey Ticket to Save card offered by the state of New Jersey Commerce, Economic Growth & Tourism Commission in the 2006 New Jersey Travel Guide. Listings of related businesses can be found by category and/or region. The site was designed under specification for Media Two (i.e. they wanted a very specific look and feel to the web site).
A complete list of features we built:
Professional Web Design
PHP and MySQL Database
Data Normalization
Searchable Listings (category & region)
Printer Friendly Page
Visit the
New Jersey Ticket to Save
web site.