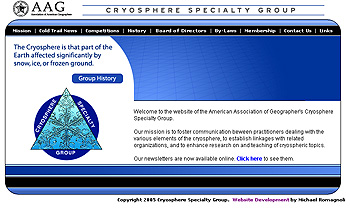 The Cryosphere Specialty Group is a specialty group with the American Association of Geographers. Their website requirements were for a nice looking website on a small budget. Maya Web Services provided an attractive template, and helped organize and develop their content. This is their first website.
A complete list of features we built:
Professional Web Design
Information Architecture
Content creation and organization
Photo treatments and special effects
Well-marked and commented sections to make updates
easy for a webmaster with limited experience.
P.S.
Interested in finding out more about the cryosphere? Drop by their site!
Visit the
Cryosphere Specialty Group website
.