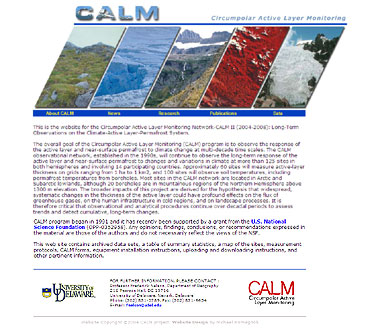 The Circumpolar Active Layer Monitoring (CALM) Network is an international program based at the University of Delaware (Department of Geography) and recently funded by the National Science Foundation. The goal was not only to develop a better, more organized and efficient website for CALM, but to design it in such a way that the organization's website manager could easily update information on the site at will. The site had to be created with browser-based development languages with no server-dependencies of any sort so that it could be moved from one server to another with either no, or absolutely minimal, changes required.
A complete list of features we built:
Professional Web Design
Information Architecture
Content creation and organization
Dynamic drop-down menus
Well-marked and commented sections to make updates
easy for a webmaster with limited experience.
P.S.
Interested in data regarding the cryosphere's active layer? Check out their site!
Visit the
CALM website
.